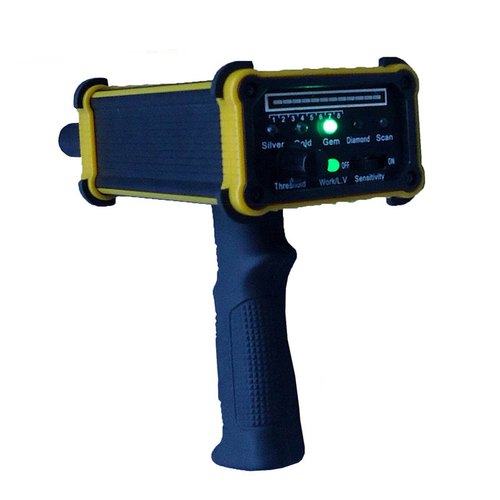 BLACK HAWK GR-100
$ 1,600 (Export Price)
₹ 115,000 (Incl. Of Custom Duty)
Black Hawk GR100 Precious Stone Detector
Black Hawk GR-100 is a new generation Locator, GR-100:
This device has been producing a new design is completely different from all other conventional devices and has been synthesized in a literal way to be innovative with a newly efficient and high capacity service commensurate with all those users of the device, whether an ordinary user or an expert or companies prospecting and exploration. This device may contain a LED screen to be the first remote sensing device with a screen. The device is characterized by its small size and ease of use and speed discovery of the objectives of providing the fuss and effort in the search.
Advantages and specifications of the device :
- A device with a dual system of two types of research provides more opportunity to get more accurate results that enable the discovery of the target The possibility of measuring the depth of the target
- scan lands and Survey in short period
- The possibility of tuning device for the detection of the following elements: gold -silver - gem(ruby-sapphire-emerald)- diamond
- Discovers depths of up to 30 meters
Digital laser detector
- Antenna ( copper ) collapsible at the top of the device according to the antenna system of free movement Was synthesized and developed to be the first in the world and specialist in uncovering gold nugget and gold, silver and gem and catacombs beneath the surface of the ground to a depth of 30 meters and the 1,000 meters in front of me.
- The two features that is available in the device for research and access to the target
- Guidance is running remotely without the need for a transplant fumbling Ground Sensors are to reach the gold and gem through the guide guideline
The device consists of the following major items:
The main unit which contains the radar LED screen of the device
- sending device to indicate
New Black Hawk pulse OKM 3D Underground Gold Metal Detector
- receiving and transmitting transceiver
- chargeable charger
- operable DVD disc to know using
- Carrying Case Waterproof
How to use and detect gold :
We carry the device straight parallel to the soil and we turn on the device by clicking on the screen and the selection of the target to be searched
for Example (gold) we have to choose the gold metal .we then choose the Front Range and the right to search according to the size of the area that we want to search out , Example and then wait a bit for the device sends signals and vibrations in the ground in the form of vertical and horizontal, and then we walk into the machine in the area to be scanned for the device to pick up any signal of the metal, which we have chosen , when taking a goal based radar a radar device movement of hydraulic go towards the goal and we track the device to signal when standing directly above the target and determine the depth of the target accurately.
- Two Years Warranty
- Made in USA
Enquiry